Why work with a Certified Financial Planner (CFP)?
---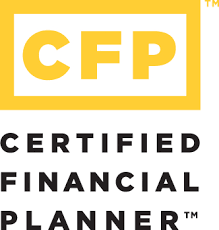 Most people think all financial planners are "certified," but this isn't true. Anyone can use the title "financial planner." Only those who have fulfilled the certification and renewal requirements of CFP Board can display the CFP certification trademarks which represent a high level of competency, ethics and professionalism. And because they are held to a fiduciary standard of care when providing financial planning services, a CFP professional is required to act in your best interest.
---
How are we compensated?
---
As fee-only advisors, we are compensated only by our clients. We do not sell products or accept commissions. Fees are based either on financial planning hourly or subscription rates or as a percentage of assets under management. Assets under management billing will be deducted on a quarterly basis, at the beginning of each quarter, automatically from your account (performance will be reported net of these fees). Subscription services are charged at the beginning of each quarter.
---
What's an "RIA" and how is it different than a broker-dealer?
---
All financial advisors fall into one of two broad categories: Registered Investment Advisor (RIA) or broker-dealer. Siena Private is a Registered Investment Advisor. What's the difference and why does it matter? RIA's are fiduciaries, broker-dealers are not. RIA's are registered with the Securities and Exchange Commission (SEC) or their state regulator, depending on their size. Most broker-dealers, in contrast, are members of the Financial Industry Regulatory Authority (FINRA). Broker-dealers are held to the "suitability" standard when offering financial advice, as opposed to the fiduciary standard to which RIA's are held. This means their recommendation must be "suitable" for the client's needs at that particular time, however they're not required to determine that the recommendation is in the client's best interest. Another distinction between RIAs and broker-dealers is their compensation structure. RIAs either bill clients a percentage of assets under management or a fixed or hourly fee. Broker-dealers, however, receive most of their compensation through commissions based on investment products they recommend and sell.
---
What is our investment philosophy?
---
We believe the markets are efficient so instead of focusing on beating the market, we focus on the things we can control such as fees, taxes, liquidity, and exposures to risk. To this end, we build well-diversified portfolios with mostly low cost exchange-traded and institutional mutual funds. Applying Modern Portfolio Theory, a globally diversified, balanced portfolio containing various underlying securities reduces the risks associated with individual countries, sectors, and markets. Our investment philosophy also helps mitigate risk by diversifying among asset classes with low correlations to each other: for example, we'll recommend both US and international stocks; equities and fixed income; small, mid and large cap stocks; and alternative classes like real estate.
---
What is our process for working with new clients?
---
We begin by spending time getting to know you, including your financial goals, investment experience and history, and your current portfolio allocation and financial reality. We then develop recommendations on how to increase your likelihood of achieving your goals, how to best prioritize your goals, and actions to reduce risk in your financial life. This includes a target asset allocation to achieve the necessary growth to meet your goals without taking on unneccessary risk; as well as insurance recommendations and estate document review. We will also develop a tax-efficient portfolio transition. We then help you implement our recommendations by investing your portfolio and integrating with other professionals, including insurance agents, CPA's, and attorneys, to put you on the best path to financial security and satisfaction.
---
Where are assets custodied (held)?
---
We custody, or hold, client assets at nationally recognized custodians to house and protect clients' assets. If you are already custodied at one of these custodians, you can maintain that relationship and even, in some cases, same account numbers, when you become a Siena client. If you don't currently have accounts at these custodians we will help you determine which is a better fit for you based on your technological preferences, physical convenience to local branches, and relevant product offerings.
---
---